Meet the candidates for the Assembly of the Student Parliament in front of the
Faculty of Economics and Social Sciences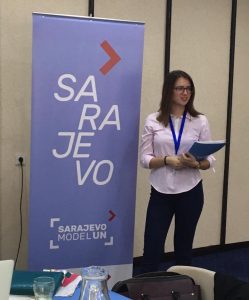 TAJRA HADŽIĆ
I'm a second year student of the Department of International Relations and European Studies and have actively contributed to several student clubs at our University and projects outside of our University.
One of the most pressing issues for the average student can be described in one word – time. Or a lack thereof, actually. Students have a very busy schedule and are oftentimes bombarded with responsibilities from all sides – University, family, friends, work, etc. More often than not, the location of these responsibilities is spread all over the city, which requires us to travel. This leads us to a logical conclusion – if we want to save time (keep in mind that time is money), we need to travel faster. Unfortunately, public transportation is not well-suited for students who study in Ilidža.
Therefore, we need to work with public transport companies to reinstate the Vijećnica-Hrasnica bus line as soon as possible.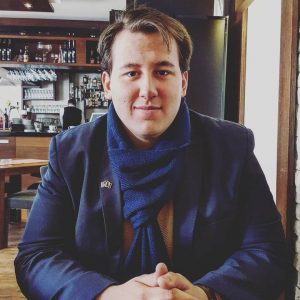 AMER KURTOVIĆ
I'm a third year student of the Department of International Relations and European Studies, intending to enroll in the EU Integrations master's program at the same department. I have served my colleagues as the president of Burch Diplomacy Club for almost two years and as a member of the Assembly of the Student Parliament and the president of the Student Parliament for the better part of a year.
One of the most important issues, if not the most important issue, for the average student is the difference between earning (or, as some might call it, voluntary donations from parents) and spending. The fact of the matter is that no one can have 'enough' to spend freely. In addition, we all want to spend as little as possible for the same quality service. Nothing is free in life, but that doesn't mean that it cannot be cheaper (for students, at least).
This may not be a student right, but it can be a student privilege. The Student Parliament needs to cooperate with other student organizations, or work independently if necessary, to decrease the prices of popular goods and services (i.e. apartment/dormitory rent, banking services, gasoline, student insurance) for the student population.
Reduced fees for students leads us to another, separate albeit related, topic: student unity. Students together can achieve much more than we can individually or divided into small groups. This is true about everything and particularly so when it comes to getting reduced fees. That, among other reasons, is why it is important for all students, both in Canton Sarajevo and wider, to cohere into one large body of students.
Meet the candidates for the Assembly of the Student Parliament in front of the
Faculty of Education and Humanities
AMILA DAUTBAŠIĆ
I'm a second year student of the Department of English Language and Literature, having transferred from the Faculty of Philosophy of the University of Sarajevo last year. While here at Burch, I have participated in several projects, founded the Drama Club with my colleagues, and contributed to the successful work of the Student Parliament thus far.
In my experiences thus far, the key ingredient to a healthy and successful relationship is communication. There is no doubt in anyone's mind that the student-professor, and even the student-student, relationship here is much better than at virtually all other higher education institutions. However, there is always room for improvement. There is no reason why our relationship with our colleagues and professors cannot be better yet.
Therefore, it is imperative that we actively work on creating a better relationship with our colleagues and our professors. The Student Parliament can contribute to that by better integrating new students in dozens of ways and by organizing events at which students from different categories (departments, cycles, faculties, years, etc.) can meet each other and hang out.
Meet the candidates for the Assembly of the Student Parliament in front of the
Faculty of Engineering and Social Sciences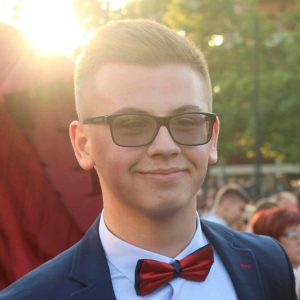 HARIS MUHIBIĆ
I'm a second-year student of the Department of Information Technologies and have extensive experience in web developing, mainly for the University and University-affiliated organizations or events (i.e. Burch Start-up Incubator, IEEE Congress, Student Parliament). In the two years during which I have been a student, I founded the Association of Computing Machinery with several colleagues, organized Burch Game Day in front of the ACM and am organizing the first-ever PlaysBa League, the first e-sports league in Bosnia and Herzegovina.
Two of the phenomena that are significantly shaping our world and which we need to use maximally are the processes of automation and digitalization. The ability to decrease time spent waiting by using lines of code and the possibility to find virtually anything and everything on your phone is incredible in of itself and even more incredible by virtue of its associated effects. Unfortunately, digitalization and automation are not widely used here and we are all bearing the costs of that.
It is time for automation of processes and digitization of 'stuff' to become mainstream and for everyone to enjoy their advantages. All administrative procedures at our University need to be automated and the teaching process ought to be digitized in full. This will ensure a higher degree of quality and create a more pleasurable atmosphere for students. On top of this, students of our IT Department can lead the way and code from sunup to sundown, benefiting the entire student body and earning valuable experience for themselves.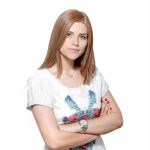 ELVEDINA OMERHODŽIĆ
My name is Elvedina Omerhodžić and I'm 21 years old. I'm a student at our University since last year, on the Department of Information Technologies. I want to become a part of the Student Parliament of IBU, because I believe that we can have even better communication with authorities than now, and I want to make the rights of students more transparent and known to students. Who else knows the needs of students than students themselves? Join me.